Medical marijuana became legal Monday in the Czech Republic and is now available for sale in pharmacies. Monday was part of the Easter holiday there, so it didn't actually go on sale until Tuesday.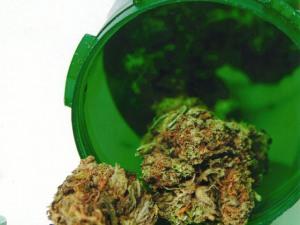 Medical marijuana is available by prescription only and has been okayed for people suffering from cancer, Parkinson's disease, multiple sclerosis, and psoriasis.
Medical marijuana is being imported — either from Israel or the Netherlands — for the first year, while the State Institute for Drug Control prepares regulations for national production. It must determine how much marijuana will need to be cultivated and organize tenders for marijuana purchases from Czech farmers. The regulatory body intends to issue licenses to local growers for a maximum of five years each.
PRAGUE: Medical marijuana legally went on sale Tuesday in pharmacies across the
BIQ House, a 15-unit net-zero energy apartment complex clad with an algae-filled bio-adaptive shell, is completed in Hamburg, Germany, as part of the International Building Exhibition.
.
Today, here's a look at a freshly completed residential complex in Hamburg, Germany, where even Slimer would feel right at home. And while it may not contain an ounce of ectoplasm, tiny photosynthetic organisms commonly associated with
Dubai is building another masterpiece structure shaped like a pyramid. The structure called Ziggurat will house nearly one million people and will be self-sustainable with all natural-energy sources.
Like the pyramids of the Mayans and Egyptians, this new structure in Dubai is a giant; it will cover 2.3 square kilometers (0.88 square miles) and will be able to sustain a community of up to one million people.
The "Ziggurat" is named after the
In an age where harmonious innovation is becoming more celebrated, Milan brings us a vertical forest designed by Stefan Boeri Architects. When complete, the Bosco Verticale will be the greenest building in Milan! Considering Milan is one of Europe's most populated cities, this is a solid inovation in bringing clean air to the city center while introducing a beautiful design.
The BioMilano vision promises to incorporate 60 abandoned farms into a greenbelt surrounding the city and as part of this vision the Bosco Verticale finds its way into fruition. The building's design boasts a stunning green façade planted with dense forest systems to provide a building microclimate and to filter out polluting dust particles. Along with that, the living bio-canopy helps to absorb CO2, oxygenate the air, moderate extreme temperatures and lower noise pollution. Not only is this visually pleasing but it also helps to lower living costs.
In the building, each apartment balcony will feature trees (900 plantings are planned for the two buildings) that will provide shade during
19-Year-Old Student Develops Ocean Cleanup Array That Could Remove 7,250,000 Tons Of Plastic From the World's Oceans | Inhabitat – Sustainable Design Innovation, Eco Architecture, Green Building
Today, plastics are among the most toxic and polluting substances we use on a daily basis. Simply focusing on styrofoam alone, it is a $20+ billion industry who's products are found in anything from TV protective packaging to disposable coffee cups. The trouble with all of this styrofoam is that it cannot be recycled or disposed of. Once created, it stays on the planet for