Medical marijuana became legal Monday in the Czech Republic and is now available for sale in pharmacies. Monday was part of the Easter holiday there, so it didn't actually go on sale until Tuesday.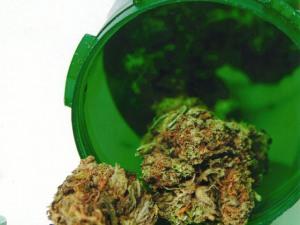 Medical marijuana is available by prescription only and has been okayed for people suffering from cancer, Parkinson's disease, multiple sclerosis, and psoriasis.
Medical marijuana is being imported — either from Israel or the Netherlands — for the first year, while the State Institute for Drug Control prepares regulations for national production. It must determine how much marijuana will need to be cultivated and organize tenders for marijuana purchases from Czech farmers. The regulatory body intends to issue licenses to local growers for a maximum of five years each.
PRAGUE: Medical marijuana legally went on sale Tuesday in pharmacies across the
UCLA researchers have used a brain-imaging tool and stroke risk assessment to identify signs of cognitive decline early on in individuals who don't yet show symptoms of dementia.
_
The connection between stroke risk and cognitive decline has been well established by previous research. Individuals with higher stroke risk, as measured by factors like high blood pressure, have traditionally performed worse on tests of memory, attention and abstract reasoning.
_
The current small study demonstrated that not only stroke risk, but also the burden of plaques and tangles, as measured by a UCLA brain scan, may influence cognitive decline.
_
The imaging tool used in the study was developed at UCLA and reveals early evidence of amyloid beta "plaques" and neurofibrillary tau "tangles" in the brain
Scientists from Washington University School of Medicine in St. Louis have discovered bee venom can kill the HIV virus without harming the body.
While Genetic Modified Crops have killed millions of Bees, in the meantime, scientists from Washington University School of Medicine in St. Louis have discovered bee venom can kill the HIV virus without harming the body.
War causes a dirty planet. So does consumption-based commerce, but toxins build up in our bodies whether we are living in a utopian paradise or the modern day world. The Chinese used herbs as far back as 2700 BC to relieve our bodies of toxins, and Indian gurus have recommended Saucha, the Sanskrit word for cleanliness, since the time of Vedic society, possibly more than 15000 years ago and at least as early as the 11th century BCE.

As a collective, we have utilized colon hydrotherapy, herbal remedies, Krichara and Chandrayana Vratas, the yogic practices of cleansing which involve fasting and other methods which were described in ancient Shastras. The use of dry-heat saunas have been used since at least the year 1112, and hot and cool baths, of the Greco-Roman era have been used since the dawn of man. Ancient Sufis, used the at-tariq (the Pathway) as a method of self-purification.

There are Japanese Shinto purification rituals and the ancient Hawaiian Kumu, specifically the Kapu Kai, who used sea water for many purifying practices, including the ritual sea bath. Baptism has been used by Jews and Christians, not only to purify the soul, but likely as a means to purify the body. "Washing away sins" really meant washing away ignorance at least to the Gnostics.

The Aboriginal tribes in Australia have taken mud and sand baths from neck to feet, often planting themselves in the earth like a vegetable root for many hours or even days to remove toxins, and Native American Indians have used sweat lodges and herbal cleansing remedies for centuries.

The Toxins of a Modern Mayhem

"Warfare is inherently destructive of sustainable development
Whole Foods Market Commits to Mandatory GMO Labelling
Whole Foods Market has committed to full GMO transparency by giving supplier partners five years to source non-GMO ingredients or to clearly label products with ingredients containing GMOs. All products in the US and Canadian stores that contain GMOs must be clearly labeled by 2018.
Whole foods is the first national grocery chain to set a deadline for full GMO transparency. Canada and the US still have no labelling laws, while more than 60 countries do. But things are changing. More than 500,000 citizens signed a petition in Washington state last year to move the initiative to the next step to their state legislature for consideration. Do we really have to wait five years? Why can't this be implemented now? Citizens in North America have had a mass awakening, especially within the past three to four years. We are awakening to what no longer resonates with us on this planet, and that awakening has involved critical thinking and an examination of all industries that govern our everyday life on this planet, including food. We have begun to see that there is foul play, and what was prior considered to be a conspiracy theory is actually a reality. It's nothing to fear, we always have a choice.
GMO labelling was introduced to give people the freedom to choose between GMOs and conventional foods. If food is produced using genetic engineering, it must be indicated on its label. Although they shouldn't be, labelling practices are quite complicated and must be regulated along side issues of legality, feasibility, standardization and coherence. What must be labeled and why shouldn't be so complicated, but it is. It's no secret that those who work for the U.S. Food and Drug Administration (FDA) or the U.S. Department of Agriculture (UDSA) have admitted that corporate interests force the agencies to change policies that harm their agenda. The UCS sent question surveys to approximately 8000 workers from both the FDA and USDA, over half who work as field inspectors responded saying that their agency practices harm public health in order to appease corporate interests.
Most foods that contain any genetically modified plants or micro organisms that were used in production require indication of some sort. This is a problem because numerous products are exempt from labelling obligations. These exemptions primarily concern additives, and processing aids, but also apply to meat, milk and eggs. The United States has openly admitted to believing that there is no difference between GMOs and natural organisms. The FDA and USDA, along with the Codex Alimentarius Committee, suggest that no country should require mandatory GMO labelling on food items. This is ridiculous, science has already shown that GMOs act differently in the body and are a threat to health. Workers usually have to wear full body suits and masks when spraying our food with toxic chemicals. They are toxic chemicals that are responsible for mutating cells and causing cancer. Cancer is a billion dollar industry and big pharmaceutical companies fund all major medical research.
The Council on Foreign Relations put out a statement not to long ago saying:
The United States has not experienced any regulatory failures. There have been no major food safety scares, and the minor ones have had a short lives political impact. The United States has in place a relatively well-established set of national regulatory bodies which appear to function reasonably well. The United States has experienced a decline in public confidence in government regulation due to the perception that it was ineffective, so they created a new set of regulatory institutions and administrative mechanisms to improve public accountability.